Welcome to Pinterest Feature Friday: Halloween Edition #1!
Today we're featuring Kimberly Davis!
Kimberly has 38 spooky and fun pins in her
I found some cah-ute Halloween goodies on Kimberlies board!
Like these felt critters.
Simply adorable door decor.
Parchment paper ghost necklace!
I've got my own BOO letters I decorate with,
and I'm loving this framed version!
Halloween ornaments. So whimsical!
Spooky eyeball spell books!
And of course I couldn't go without showing off a fun Halloween wreath.
I love the giant glittery spider!
Thank you so much for linking up your board, Kimberly!
You haved pinned some fun Halloween projects!
Please feel free to grab a featured button.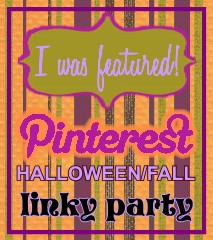 We'll have another great Halloween feature next Friday!
And if you haven't joined the Pinterest Master List for crafters, please link up!
We currently more than 450 crafty people in our party!

I have started truncating my posts to avoid having my content stolen. I hope you'll click over to finish reading the post. Thank you for understanding!