A quick note to say I'm guest posting at
My World Made by Hand
today!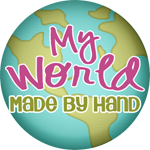 I'm sharing my Burlap & Denim Ruffled Patriotic Wreath tutorial.
And, by the way, its still hanging on my front door. I love it!
It will probably stay there until Labor Day! 🙂
Anyhoo, c'mon over and say hello!
I have started truncating my posts to avoid having my content stolen. I hope you'll click over to finish reading the post. Thank you for understanding!