Hi there! I am Tammy from Not Just Paper and Glue where you will find everything from scrapbooking to cheesemaking, handmade cards to homemade soap, wild flowers to tame sunsets and cool crafts to fresh hot bread – because life is not just about paper and glue; it's a whole lot more!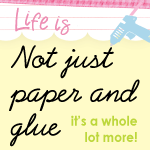 I want to thank Michele for inviting me to share with you this quick tutorial that will make your holiday tree or garland sparkle!


Supplies:
Flat Clear Glass Ornaments
Plastic Beads
Circle Cutter

You will want to color in your Art Acetate using your P K Glitz glitter and Crystal Lacquer. The instructions on how to do this can be found under Instructions on the P K Glitz website.
Once your acetate is completely dry, cut it into a circle that will fit inside of the ornament. Mine was cut into a 2 ½ inch circle.

Remove the top off of the glass ornament. Roll your acetate so it will fit through the top of the ornament. Let it slide all the way into the ornament. If your acetate does not open all the way, use a wooden stick or some other object to help flatten it back out. Be careful not to scratch your acetate while doing this.


If you wish, you can add some plastic beads to your ornament for snow. You can also add P K Glitz Crystal for added sparkle.
These ornaments are really fun to make and would make a great project to do with your older children. They can be hung on your holiday tree or garland and you will be amazed and how these will sparkle under your holiday lights.
Download the PDF version of instructions
I hope you have enjoyed this tutorial and if you decide to create some of these ornaments, I would love to see them!
Wishing you a very blessed and happy holiday season!