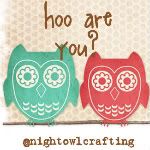 Time for more Hoo Are You Tuesday!
If you want to play along please visit Leslie at Night Owl Crafting and link up to the party!

This week's questions:

1. Do you have any siblings?
Yes! I have a brother who is two years younger than me.


2. Do you have any children?
I have one adorable little boy, Gavin. He'll be 2 in September! Where has the time gone??
Isn't he a cutie??

3. Are you a morning or night person?
I'm definitely more of a "night owl". I hate getting up in the morning, and most people know not to talk to me for at least an hour after I've gotten up. I've had to try to not be so grumpy in the morning since I've had Gavin though. He just doesn't understand why mommy would be in a bad mood in the mornings! Plus, he kinda makes me smile!

4. Are you organized or spontaneous?
A little of both. I don't like change, and hate when my "schedule" (the one that's in my head but isn't really spoken out loud) gets interrupted, but if we end up doing something unplanned like going out to dinner or something, I only sulk for a few seconds. 😉 I have a bad habit of planning my time out in my head of all the things I want to accomplish… then I don't tell my husband who may make other plans. lol!

5. What is your typical 4th of July like? Laid back at home? Community celebrations? etc…?
Very laid back. My family and my husband's family usually go my aunt's house to swim and cook out. We may try something new this year, but it will still be very laid back and family oriented.
Okay, what about you? 🙂
I have started truncating my posts to avoid having my content stolen. I hope you'll click over to finish reading the post. Thank you for understanding!