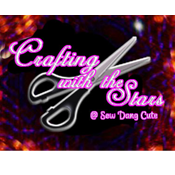 Our Round 1 projects are almost due!
I'm just putting the finishing tweaks to mine then I will be ready to submit it to Tam. Yay!
Things for you to know:
1. Voting will start tonight at midnight MST.
(I'll post again tomorrow to remind you to go vote!)
2. You won't know which project is mine, but if you know my crafting style you might be able to figure it out!
3. You get to participate, too!
There will be a link party each Monday regarding the topic of each round. So have your projects ready to come play along!
Save