Hello! This is Sarah from Craft Quickies and Bombshell Bling Jewelry, and I have a public apology to make: I want to apologize for all of my Pinning.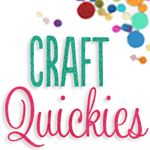 Not my Pinning in general, necessarily, although I do have a lot of Pins. In fact,
I have 68 boards and 5,348 Pins
. I may have a problem. My sister sure seems to think so!
Back to the topic at hand: apologizing for flooding the Pinterest home pages of my followers for the past two days. It has been a bit, well, insane. You see, I have a stomach bug that has knocked me flat for five days straight now, so there has been a lot of sprawling myself out on the couch while my children play in my general vicinity, unable to accomplish anything of substance. Oh, except that I can still browse Pinterest on my phone. And since I am helping my dad plan a remodel of his house, as well as preparing for two kid birthday parties and two upcoming holidays, I have plenty to search for and Pin!
Finding the fabulous Pinner that I am going to feature today didn't help a BIT either. I tried really hard not to re-pin every single item that she had Pinned. I swear. But…..well…..it's all just so fabulous. Here, I'll prove it.
Meet Christine Ralston, the brilliant creative talent behind the blog The Crafty Woman. Seriously, this girl has some MAD artistic skills. Check out her blog after you check out her Pins. You will NOT be sorry!
Let's take a closer look at a few of the Pins from her From the Blog: the Crafty Woman board. You will see why I'm making such a fool of myself gushing about Christine. My sisters would tease me and say I have a friend crush on her, except that I don't know her personally, much to my chagrin, so I guess what I have is a *blog crush* on her. I am not ashamed. Do you hear me, sisters?! Not ashamed.
~.~.~.~.~.~.~.~.~.~.~.~.~.~.~.~.~
Fantastic feature, Sarah!
You showcased Christine so well. I know I'm excited to go check all of her boards!

Christine you have some wonderful Pinterest boards and some amazing pins!
Be sure to grab a featured button.


Have you joined the Pinterest Master List yet?