Whew! That was fun! Thanks so much for playing along during my 1000 Blog Follower Party!Its always a bummer when a party has to end, but hopefully these 9 ladies will be quite pleased with themselves. If only everyone could win something!
All winners were chosen using Random.org

Giveaway #1 winner: Kassie Groll who said… I follow via GFC!

Giveaway #2 winner: Jessica @ My World – Made By Hand who said… I follow via GFC!

Giveaway #3 winner: Steph who said… I am a follower!

Giveaway #4 winner: LambAround who said… Following via GFC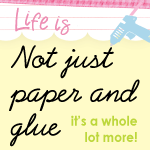 Giveaway #5 winner: Jessica who said… Hmmm, my favorite item… Who doesn't like a little sparkle?? Gliier Glitz for sure!!

Giveaway #6 winner: Grammy Goodwill who said… My favorite item is anything in those circles. I love that pattern. Thanks for the chances to win.

Giveaway #7 winner: Jordan who said… the paper bag albums are so cute!

Giveaway #8 winner: Carla who said… I follow via GFC!
Giveaway #9 winner:
Jessica
who said…
I'm a blog follower!!! And I love all these giveaways! so fun!
I have email addresses for all of the winners so I will be contacting you all very soon!
Congrats, ladies!
And another great big thank you to all of the giveaway sponsors!