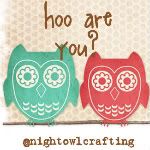 Time for another round of Hoo Are You Tuesday with Leslie at Night Owl Crafting!
If you want to play along, be sure and visit Leslie and link up to her party!
This week's questions:
1. Have you ever broke a bone or anything on your body?
I apparently broke or hurt really bad my collar bone when I was born. But other than that, knock on wood, no other broken bones!
2. What is your favorite drink?
Coke 0! Yummmmm. 🙂
3. When is your birthday! You don't have to tell the year you were born!
February 9. I'm a water baby! I don't mind telling the year, but you'll have to do the math. 😉
1979
4. Do you have an allergies?
I didn't for the longest time, which is crazy growing up in TN where allergies are notorious. But now I'm starting the get them every year. Old age? Luckily no food allergies.
5. What is one of your all time favorite movies?
I'm an action movie/epic drama kind of gal so….
I'm completely obsessed with Indiana Jones. Have been for as long as I can remember!
Goonies, 300, Ocean's 11 (and 12…and 13!), Van Helsing, the Bourne movies, Braveheart, Gladiator, Lord of the Rings, the Harry Potter movies…
Oh, and Aladdin and Sweet Home Alabama…
Just to name a few. 😉
I have started truncating my posts to avoid having my content stolen. I hope you'll click over to finish reading the post. Thank you for understanding!