My name is Tammy and I am a wife and mother living on a small farm in the heart of Texas where life is never dull! Not Just Paper and Glue is a place where you'll find everything from scrapbooking to cheesemaking, handmade cards to homemade soap, wild flowers to tame sunsets and cool crafts to fresh hot bread – because life is not just about paper and glue; it's a whole lot more!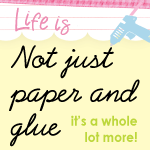 I want to thank Michele for allowing me to be here today. I hope you will enjoy this little tutorial I have for you today while Michele spends time cuddling her new bundle of joy.
Recently I was looking for a business card holder but none of them really reflected my personality so I decided to make one of my own and here is out to do it.
The first thing you will need to do is download this pattern. If you have the ability, decrease the print quality so the lines are printed faintly onto your cardstock that you are using for your business card holder. If not, then print this onto heavy cardstock, cut out, and use as a pattern. This pattern can be altered by increasing the printing size to larger than 100% to create a holder for ATC, notecards, or whatever you would like.
Business Card Holder Pattern
After printing your pattern, cut your base cardstock and score on the dashed lines.
I wanted to add some sparkle to my business card holder so I chose to add an
Art Acetate
from
P K Glitz
for embellishing. I followed the
Glitter on Acetate instructions
found on their website to add the glitter to the Daisy Background Acetate.
Because I did not want my acetate to bend across the score marks, I measured each of the "sections" of the pattern and cut the acetate into three sections.
I added Crystal Lacquer along the edge of each of the sections, then also added glue to areas where I had glittered to add more adhesive and make sure that each piece would be secure on the business card holder.
Here is what my piece looked like before assembling. It looks like a fun summer shirt doesn't it? LOL


Turn your piece over and trim any excess areas.


I used Sticky Tape to adhere the tabs to the inside of the business card holder.


It no longer looks like a shirt and now very much resembles a business card holder.
Using a border punch and Sticky Paper, I made a pretty border for the flap.


I also used a set of thin magnets for my closure. As you can see above, I used a button to cover the magnet on the outside of the business card holder.


Here is my finished business card holder. I think it is perfect to carry my P K Glitz business cards, don't you?

Print or Save the Business Card Holder Tutorial
If you decide to use this tutorial, I would LOVE to see what you make with it! Thanks so much for joining me today!