Hi Scrap Shoppe followers! I'm Carol, thrilled to be guest posting from my blog, The Answer Is Chocolate. I was honored when Michele invited me to guest post while she's out on her leave.
As you might be able to tell by my blog name, I'm crazy about chocolate. I'm also crazy about crafting, and my husband would say I'm just plain crazy, but I blend my love of chocolate and crafting together in my blog which is how I ended up with a faux chocolate egg tutorial to share with you today. And since my project includes a French label from The Graphics Fairy, a French title seemed appropriate. OK here we go! Let me show you the finished project first and then we'll go through what I did.

I started with a plastic egg from Michaels that I painted a couple coats of a deep chocolate brown. I used Folk Art's Coffee Bean.


Once the egg was completely dipped in chocolate, I was ready to decorate!


I printed out my image from The Graphics Fairy, sealed it with a Krylon matte finish spray sealer and then tore around the edges. These eggs have a flat spot on the back so make sure you apply your pic to the rounded side! I used Mod Podge to apply. If only they'd make a chocolate scented Mod Podge!
Once that was on, I went over the whole thing lightly with some gold paint. I just scrunched up a plastic bag and dabbed the paint on all over.
Time to embellish! I love self adhesive rhinestones and pearls! I had these brown and cream ones ( Michaels) and some dark brown paper flowers that I used to embellish the front of the egg.


I put one whole strip of brown pearls in the middle of the label, and then used individual cream pearls as the centers for the flowers and randomly on the label.
Finally, I used self adhesive scrapbook borders by K&Co ( Sheer Simplicity , neutral collection)


to go around the egg to finish it off. This pack contains neutral browns and beiges and metallic gold so I used the brown and gold of the same pattern, with the straight sides back to back.


So there you have it! I hope the instructions were clear but if you have any questions, please feel free to email me at theanswerischocolate@comcast.net, or pop on over to my place some time! Thanks again for having me Michele!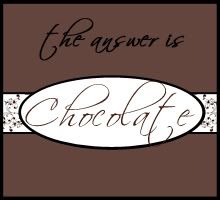 Carol,
Head Chocolatier, http://answerischocolate.blogspot.com/