Our next guest blogger during the Homemade Christmas Decor series is super crafty. Just keep her away from your chocolate! 🙂
***
Hi there Scrap Shoppers. I'm Carol and I blog over at The Answer Is Chocolate where I combine my love of making all kinds of things with, you guessed it…my love for chocolate.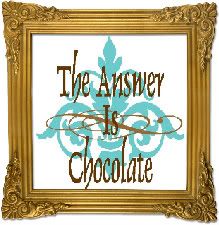 I'm so excited Michele decided to do another Homemade Christmas and thrilled to be here to share a fun , easy, and inexpensive piece of Christmas décor with you: A Framed Glitter Ornament
I really enjoy making things using inexpensive materials. Largely that's because I can justify buying more supplies, but I'm also a firm believer that you don't have to spend a lot to have pretty things around you. Like so many crafters, one of my go to places is The Dollar Tree.
On one of my trips I found a pack of glittered reindeer ornaments. Five for $1! Had to have. Right next to them was a pack of red tissue paper "hot stamped" with silver. Also a must have!
One of my other stash staples are unfinished wood frames from Michaels. Yep you guessed it. They're $1.
I took one sheet of the tissue paper and traced around the frame and cut out. Covered my frame with Ranger's Glue N Seal and then put my tissue paper on. You could also use Mod Podge. I chose not to seal the top since I wasn't sure if it would dull the shine of the silver foil.
Don't worry if you don't get this exactly measured to your frame. Let your adhesive dry and then I file around the edges with a piece of fine sandpaper or a package of emery boards that you picked up at Dollar Tree!
Waste not want not, so I covered the cardboard that came with the frame with some scrapbook paper:
I covered both sides because it just gives a nice finished look since there's no back to the frame.
Took one reindeer from my package of ornaments, cut off the string used to hang and then hot glued it to my finished frame, offset so the feet and antlers are glued to the frame vs onto the paper. I liked the dimension this gave.
I cut the letters JOY from black vinyl using my digital cutter but if you don't have one of those, you could easily use alphabet scrapbook stickers or letter stamps. Embellished those with red self adhesive rhinestones I had in my stash.
Another reason I like the effect of gluing the reindeer to the frame vs the paper is this shadow effect. The glittered snowflakes I also had on hand and came in a package of 12 for $1.49 at Michaels.
My total cost for the supplies for this project was about $3!
$1 frame
$1 Tissue Paper ( over 4 sheets left over so lots more crafting!)
$1 Ornaments ( really $.20 for this project since I used one of five)
Let's say you decided to spend $4 more on frames and make a total of five of these so you used up all your ornaments. Price per project would be around $1.40!! And I guarantee you'll still have tissue paper left over.
Hope you've enjoyed this idea and thanks again Michele for having me over! If anyone has any questions about this or would just like to drop by and say hi, I would love to have you come and visit.
***
So cute! If you are interested in making really fabulous holiday decor on a Dollar Store budget, Carol is your girl. You won't believe some of the things she comes up with from dollar bin finds at Michael's! Be sure to go visit her!


I have started truncating my posts to avoid having my content stolen. I hope you'll click over to finish reading the post. Thank you for understanding!