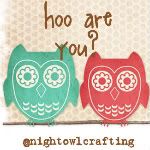 And, not to brag… okay just a teensy weensy bit… ready? Really I won't be long here…
Leslie asked for help naming her new party and liked my suggestion for Hoo are you Tuesdays! Yay!!
Okay, I'm done now. Bragging complete.  😉
So if you're visiting from the party, welcome!! And if you one of my readers just stopping by, welcome! And I invite you all to get to know a little more about lil' ol' me. 🙂
On with the party!
This week's list of Q&A:
1. If you could choose one of your personality traits to pass on to your children, what would it be?
Sense of humor. You just can't make it through life without one, and you have to be able to laugh at yourself!
2. What's your favorite candy bar?
Twix. Hands down. I'm not sure what it is about the caramel and cookie combo, but I love it!
3. If you could vacation anywhere in the world, where would it be?
Definitely Australia. Its somewhere I have wanted to visit since I was a teenager. Maybe one day!!
4. What 3 adjectives would you use to describe yourself?
Silly
Practical
Loyal
5. In one word, how would your best friends describe you?
Goofy? Probably crafty. They're always accusing me being "too" crafty. 😉
Maybe one of them will weigh in in the comments! lol!