My son was lucky enough to receive this old schoolhouse chair as a gift from his great grandmother a couple of years ago. He's getting old enough to want to sit at his desk to color and read so I decided we needed to really make it fit his room, his likes, and his personality with a little makeover.
For this project you will need the following supplies:
Wooden chair
Spray primer
Spray paint in your color of choice
Fabric
Decoupage
Spray sealer
My wooden chair only had a light coat of stain so I used the 80 grit sandpaper to give it a good all over rub down. This will give the primer something to stick to. If there had been a heavier stain or paint I would have used a lower number grit sandpaper to remove it.
After wiping the chair down with a damp rag, its time to paint!
Start with a coat of spray primer.
After it dries, sand lightly with the fine 180 grit sandpaper and apply a second coat of primer if necessary.
I tend to do a lot of my spray painting in my potting shed because of the amount of wind we have around our house. So I am always careful to take the proper protection. Eye and respiratory safety are a must for this project.
Once the primer has dried completely, lightly sand it again with the 180 grit so you will be working on a smooth surface. Spray a light coat of paint. Applying several thin coats of paint rather than 1 or 2 heavier coats will prevent dripping of the paint. Be sure to lightly sand between each coat of paint.
While the paint is drying, prepare your fabric to go on the chair.
I measured and trimmed the fabric to fit on my chair.
Once the paint is 100% dry, use decoupage to attach the fabric to the chair.
Apply another coat of the decoupage on top of the fabric to seal it.
Add a coat of spray sealer all over the chair and you're done!
For a little something extra about working smart when you create
watch this video where I'll show you some products that will help see your projects to completion.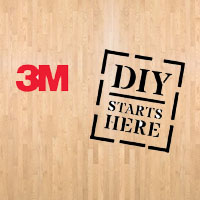 Disclosure: This post is a sponsored post paid for by 3M DIY, but the ideas and tutorial are my own.
This post is brought to you in partnership with 3M DIY. Learn how to work smart and be prepared at 3MDIY.com.
Content and/or other value provided by our partner, 3M DIY Starts Here
Follow 3M DIY on Facebook, 3M DIY on Twitter, and 3M DIY on YouTube.
I link to these fun parties!