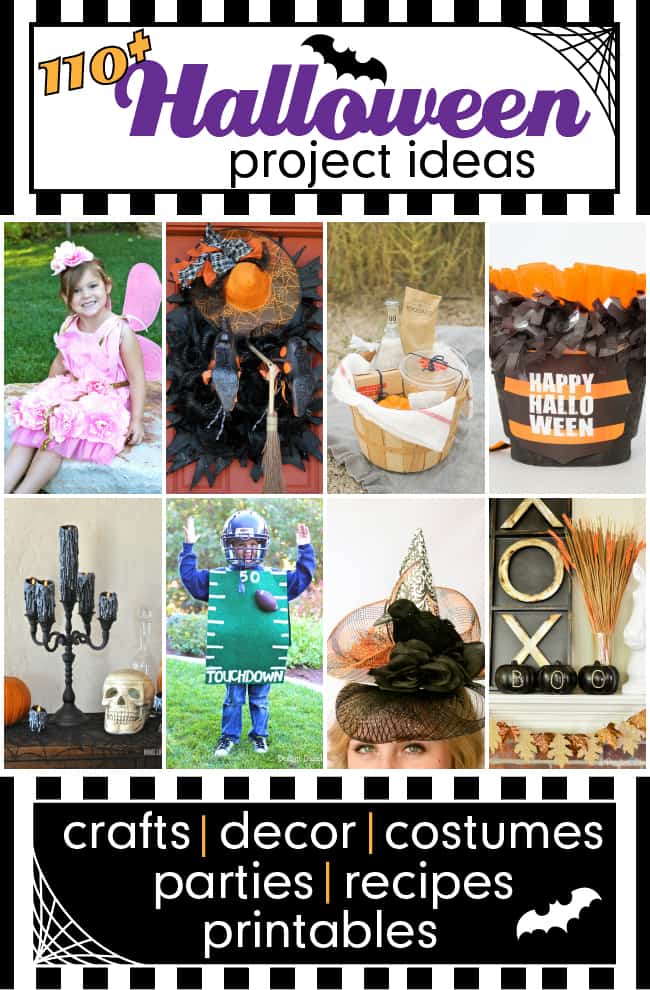 I don't know about you, but I love Halloween! To celebrate I have teamed up with some of my talented blogging friends to bring you over 110 fabulous Halloween ideas! From costumes to parties, crafts and home decor, recipes and free printables, we have so many fun ideas to share! I guarantee you'll find a project (or 10!) that you would love to incorporate into your Halloween festivities. All this week myself and my blogging friends will be sharing our fun creations with all of you. Each day will include approximately 20 Halloween projects and you can "hop" from one blog to another to check them all out.
A
couple of years ago
I shared my Halloween mantle, and it included a few small bats flying out of the fireplace. I never gave a tutorial or shared how I did it so I have decided to remedy that and show you how easy it is to make these little bats and add them to your Halloween decor!
You have a different options for cutting out the bats. With the JPG file, you can upload it to either a Silhouette or the newest Cricut machine and have it cut out the bats on
removable black vinyl
(
flocked black vinyl
is my favorite!
affiliate link
). OR you can put a piece of 8.5×11 black vinyl in your printer and print on the BACK of the vinyl then cut by hand.
Since I have a Silhouette, I'm going to show you exactly how to have the machine cut the bats on black vinyl.
Open the Bats JPG file in the Silhouette software.
1. Click the ROTATE button and rotate the file by 90 degrees.
2. Click the TRACE button.
3. Click SELECT TRACE AREA. Draw a box around the bats. The edge of each bat will highlight yellow.
Click TRACE OUTER EDGE.
The yellow border around the bats will become a thin red line.
This red line is overlaid on the original file.
Click the bats in the original file and delete.
You will be left with the red bat outlines.
Click the CUT button and select vinyl as your media. Load the vinyl in your machine and cut out the bats.
Peel off the negative vinyl and you are left with a page full of various-sized bats.
You can treat the bats as stickers; there is no need to use transfer paper.
Arrange the bats on your surface, starting with the smallest and working up to the largest, to give them depth.
I love how these look "flying" out of my fireplace!
You could also easily use the bats on a mirror, a storm door, or even on the wall coming out of the closet. The possibilities are endless!
And they definitely add a fun extra spooky touch to your Halloween decor.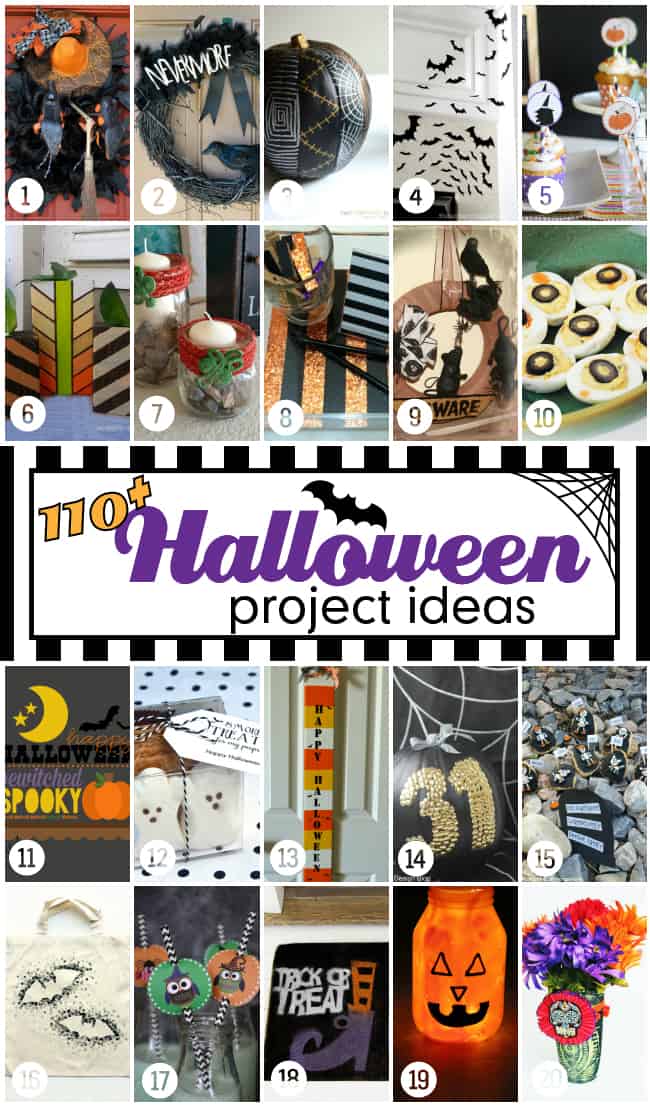 Are you ready for even more creative Halloween ideas and projects??
Come participate in our blog hop! Simply click on each of the links below, for the Halloween projects you'd like to see in more detail and it'll take you right to that post with additional information and photos on how to create it. Have fun and pin away!
1. Halloween Witch Crashing Decoration
2. Quoth the Raven, "Nevermore" Wreath
3. DIY Sharpie Pumpkin
4. Flying Bat Silhouettes
5. Halloween Cupcake Wrappers & Toppers
6. Easy Geometric Wooden Pumpkins
7. DIY and DYE Autumn Burlap Jar Candles
8. Easy DIY Halloween Tray
9. CreepyCritter Halloween Wreath
10. Blood Shot Paleo Deviled Eggs Eyeballs
11. Free Halloween Subway Art Printable
12. S'more Treats
13. Candy Corn Halloween Sign
14. Thumb Tack Pumpkin
15. Halloween Fun Decorating Sugar Cookies
16. Eraser-Stamped Trick-or-Treat Bag
17. Free Printable – Halloween Gift Tags
18. DIY Halloween Trick or Treat Door Mat
19. Pumpkin Mason Jar Luminary
20. Dia De Los Muertos Flower Vase
Thanks to all 110+ fabulous bloggers participating! We'd love for you to visit their blogs and see what else they're up to!