I hope everyone is off to a great Easter Sunday! We had a great egg hunt this morning. It was our first one! Our little guy just LOVED finding all of the Easter eggs! Then it was on to the hunt for the Easter baskets. Lots of excitement there!
It also happens to be my husband's birthday today.
(Happy Birthday, dear!)
He is a BIG fan of PEEPS so I made him this little treat
Its a s'mores trifle! Yum!
I thought the PEEPS were the prefect addition since his birthday falls on Easter this year.
If anyone is interested in the recipe you can find it
here
. It is REALLY yummy.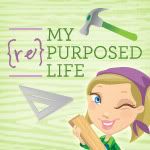 I'm sharing my chalkboard bunting tutorial. If you've already seen it here, still go
check it out
and see how I used it to decorate for Easter!
And, finally, I wanted to leave you with this awesome photo my husband took of our boys.
♥♥♥
Happy Easter, friends!
I have started truncating my posts to avoid having my content stolen. I hope you'll click over to finish reading the post. Thank you for understanding!