Greetings Scrap Shoppers! I'm Carol from "The Answer Is Chocolate" the rest of which goes "Does the question really matter?" because for me, if it can't be answered by chocolate, it probably can't be answered!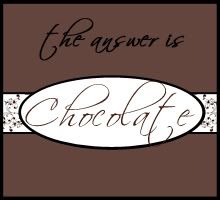 I decided to combine my love of making things with my chocolate addiction and start a blog and am so excited to be guest posting here at Michele's. The only thing I love even more than chocolate is Christmas! I'm one of those who starts saying in January "only 11 months til Christmas". I know…one of those people. Today I'm going to show you how to make something I've shared on my blog that can be used as a hostess gift or just to decorate your own home: an altered and embellished glass candle. These are Christmas themed but you can adapt for any time of year.
You'll need:
Glass Jar Candle ( also known as prayer candles, Novena candles) You can find these lots of places. I first found them at the grocery store but subsequently ordered a case of them from Dollar Tree's website.

Scrapbook or wrapping papers

Embellishments…ribbon, buttons, beads, die cuts etc.

Mod Podge
I like to combine patterns and textures so I used three different papers:
Decide which paper you want as your base. Cut to 8×8 then tear top and bottom edges. Cut remaining papers to 8 inches length and decide how wide you want the next layer, I did 4 inches for the middle, and then 3 for the top paper. Tear top paper across the top and bottom as you did for the base layer. Mod Podge your papers together to form your candle wrap. Should look like this:
Patterned paper base, music paper middle, patterned paper top
Mod Podge candle wrap to candle. Cover top with more Mod Podge and you'll have this:
You can make the "wrap" cover as much or as little of the candle as you like. Now it's time to embellish which is the fun part! I used various things I had on hand like buttons, self adhesive rhinestones, ribbon, silver tinsel pipecleaners. I chose a couple of diecuts from a package by K&CO and adhered to the center with Mod Podge. Then I added these strips of rhinestones (Michaels Dollar Section):
I also added some buttons using a dimensional adhesive or you can use hot glue:
And some more coordinating self adhesive rhinestones on top of the buttons. To finish, I like to wrap the top "lip" of the candle with ribbon or you can use wire, beading thread or whatever you can think of. I used some vintage looking ribbon yarn and a silver tinsel pipe cleaner on these.
Hopefully this made sense but if you have any questions, please drop a comment on my blog or email me! There's really no right or wrong here. Thanks so much Michele for having me over for Homemade Christmas!
Carol,