Take a tour of a colorful, inviting craft area with this craft room tour update, and see how to make the most out of a small space!

My friends!
Today I'm giving you an craft room tour update to look at my craft space.
I did my original craft room reveal 2 years ago during my friend Angie's Craft Room Tours, and I'm participating once again to show you how it keeps inspiring me to create.
If you were to compare photos of this post and the original post, you initially would think they are identical.
In reality, they are extremely similar, just with some things moved around to be more functional.
The overall layout is identical because I planned this space to a "T" prior to constructing it and it has worked perfectly for me.
My craft "room" is a corner of our bonus room and also houses my boys' play/gaming space, our "spare room" in the form of a fold out couch, and a general catch all corner of miscellaneous household items.
Let's get started, shall we?

Craft Room Tour Update: Craft Desk
If you follow me on Instagram you saw what a mess this place was just days ago.
The post holiday pile up was real.
In reality, I hadn't thoroughly cleaned my craft space in months.
It was in desperate need.
Things went from collecting on the stools, to the desktop, to all the other open areas and extending into the rest of the room.
After a good purging and reorganizing session (that lasted nearly a week!) I have things back in working order, and I can't wait to start creating again!

Look at all of that desktop space!
I haven't seen this desk this clean in a looooooong time.
In case you're wondering, I use that desktop ruler ALL of the time.
It's one of my favorite features and was so easy to apply.
The numbers and lines are simply drawn on with a Painter's Pen.

You can find more details about all of the furniture in my craft space in my original post.
But I can tell you this style of desk has been wonderful to work with.
I love the island style and that I can work from any side.
It also hosts a ton of storage, including underneath.

Under the desk I keep oversized items, such as photo backdrops, and supplies that I use often so they are within arms reach.
The shelves in the back are leftover from my original craft space years ago and are hidden from the front of the desk with a curtain I made.

Craft Room Tour: Craft Cart
This IKEA cart continues to be one of my favorite purchases for my craft space.
I keep all the items I use the most in it so they are easy to access, including paper towels, tape, paintbrushes, adhesives, and rulers.
AND the color matches perfectly in my bright space.

From my desk chair I can reach nearly all "must haves" that occur during a craft session.
Adhesives, markers, pens, pencils, rulers, cutting mats, knives…
It's all in/on my desk or just a swivel around to the IKEA shelves behind me.
The stools are used by my boys when they craft with me.

Craft Room Tour: Cube Shelving
These IKEA shelves are SO useful!
And I wouldn't change a thing about the options I went with when purchasing them.
The turquoise units have doors on the bottom half which is perfect for hiding away larger items.
The drawers and pull out bins on the white unit have also worked extremely well.
And I still love the labeling I made with adhesive vinyl, in matching colors, of course.

Craft Room Tour Update: Color Pops
And, speaking of color, my room never fails to inspire when I see it.
Even when it's a mess.
If I'm not feeling the mood to be creative I just walk it here and the inspiration just washes over me.
Someone on Instagram said she wished she could embrace color like this.
You guys, this is the only room in my house that is like this!
I am very much a monochromatic kind of girl.
My living room may have an occasional pop of color here and there but nothing like this space.
I think that's why I find it so inspiring.
It's like the creative part of my brain exploded in here while the rest of the house is the more practical, subdued part of my brain.

Craft Room Tour Update: Tall Shelving
Moving on to the other wall of my craft space, I am still loving this tall IKEA shelving unit.
It still holds all the same things as the last time I shared with space:
2 rows of fabric storage, my sewing machine, the printer, scrapbooking supplies, and a metal suitcase full of floral supplies up top.
GOALS in 2018: sew a cute cover to go on my sewing machine!
That will bring even more color to this wall!

Craft Room Tour Update: Sliding Unit & Pegboard
I said two years ago that I would share the IKEA hack for making the sliding door on this KALLAX shelving unit.
And I still haven't done it.
I love that I can fill all of those shelves full of stuff and hide it away but still easily access it all.
Plus it provides such great extra desktop space.
I use my Silhouette ALL the time and having it at home here makes it super easy to use.
And the pegboard! It's as functional as it is pretty.

In the past two years I haven't made any major changes to the space.
I think that speaks volumes of it's functionality!
So, what do you think of my craft room tour update?
Would this space inspire you?
You can find more details on my original reveal!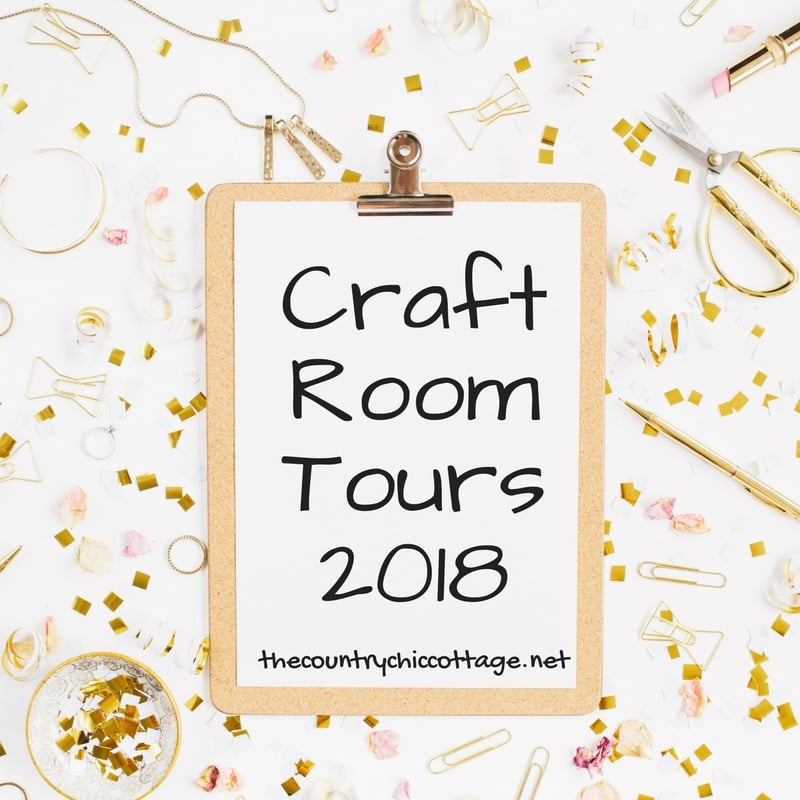 Angie is once again hosting her series Craft Room Tours!
See see more inspiring craft spaces be sure to click over!


>> See where I party! <<