Hello! I'm so excited to be here at The Scrap Shoppe for the Homemade Christmas Event!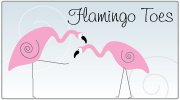 At Flamingo Toes, I like to do sewing, crafting and especially knockoffs!!
In fact, that is what I'm sharing with you today – my tutorial for this darling Child's Sewing Kit.
Perfect for a stocking stuffer and verrrry easy on the pocketbook.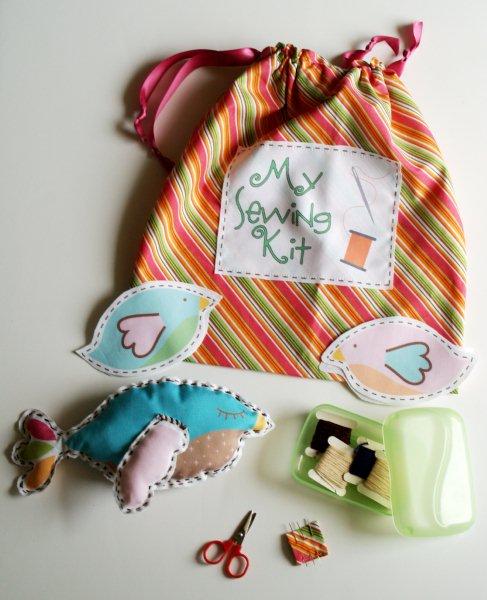 My inspiration is this little sewing kit from the Land of Nod.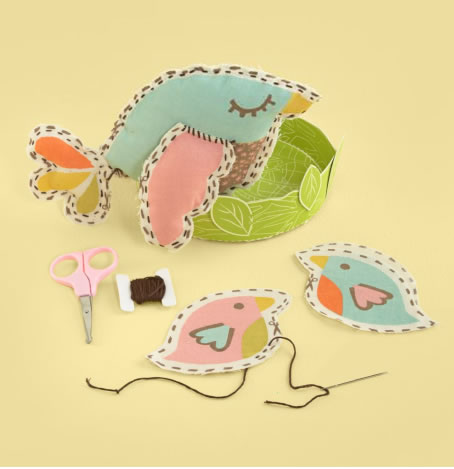 This one is so fun and easy and has so many options!
I've been doing some projects printing on fabric – and this is perfect for that.
Here's what you'll need to make your own kit.
• Fabric for printing – white or light color
• Freezer Paper
• Fabric for Sewing bag
• Ribbon
• Scissors, Needles and Thread for kit
• Box for sewing kit
• Stuffing
• Downloads for printing
Begin by cutting out your fabric and freezer paper – you want them to be 8 1/2″ x 11″.
Iron the shiny side of the freezer paper to the fabric.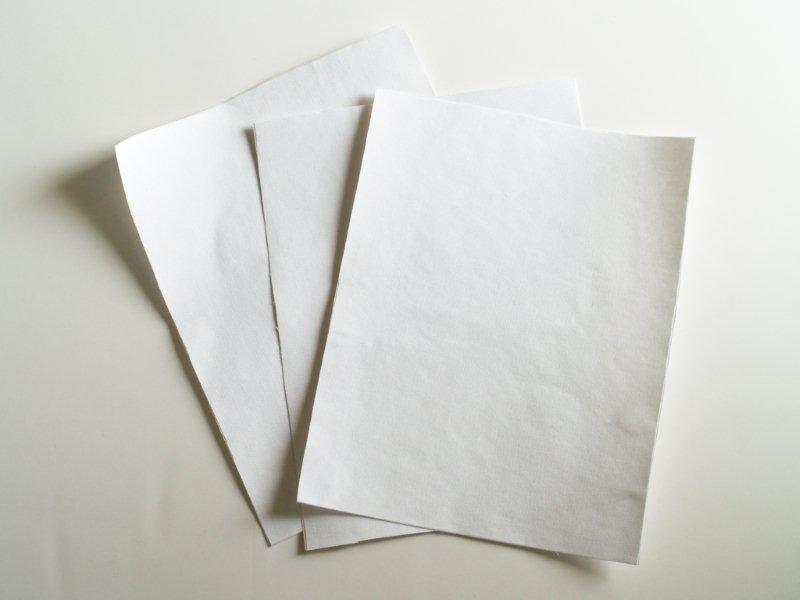 Print one page at a time. Place your fabric in the printer so that when it feeds through, the printer will print directly onto the fabric. The freezer paper is just there to keep it stabilized.
Sometimes you will get little ink marks along the top or sides of the fabric. It's a good idea to have a little extra fabric in case you need to reprint something.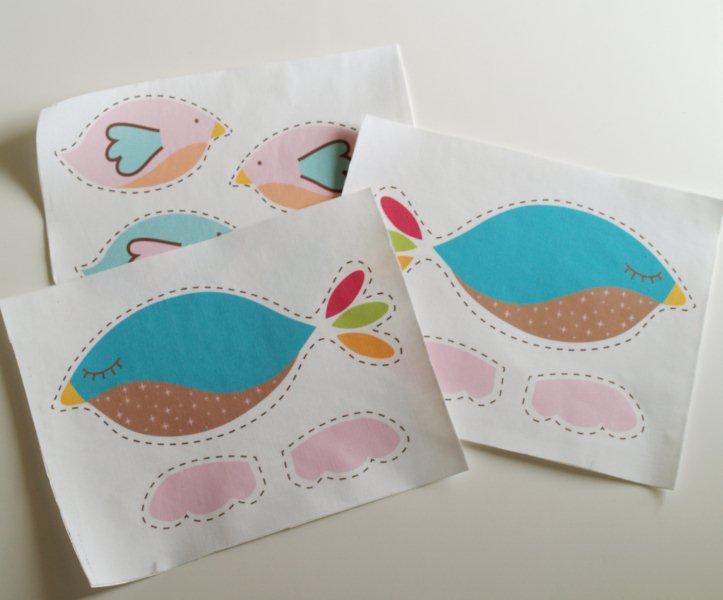 Cut out all your bird and wing pieces. Leave a little white around the dashed lines.
Peel off the freezer paper.
Now your fabric pieces are all ready for your little ones to sew together!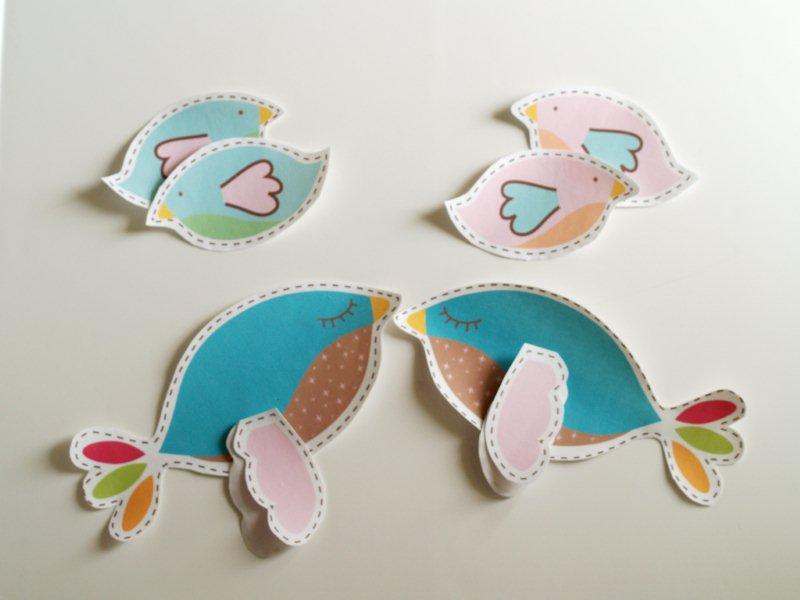 To make the bag to hold all their supplies in, cut a rectangle of fabric 13″ x 28″.
Cut another set of fabric and freezer paper and print out the sewing kit image.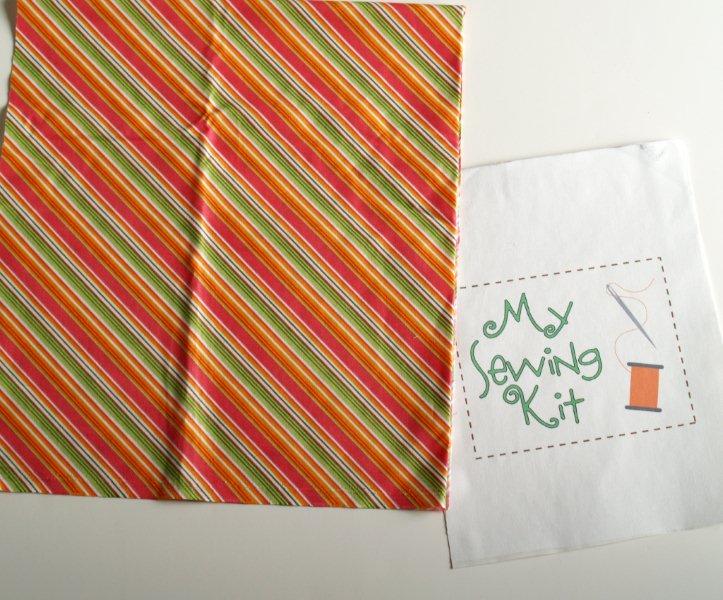 Trim around the image. Fold your rectangle in half with the cut ends together. Position your image in place on the bag and machine sew on.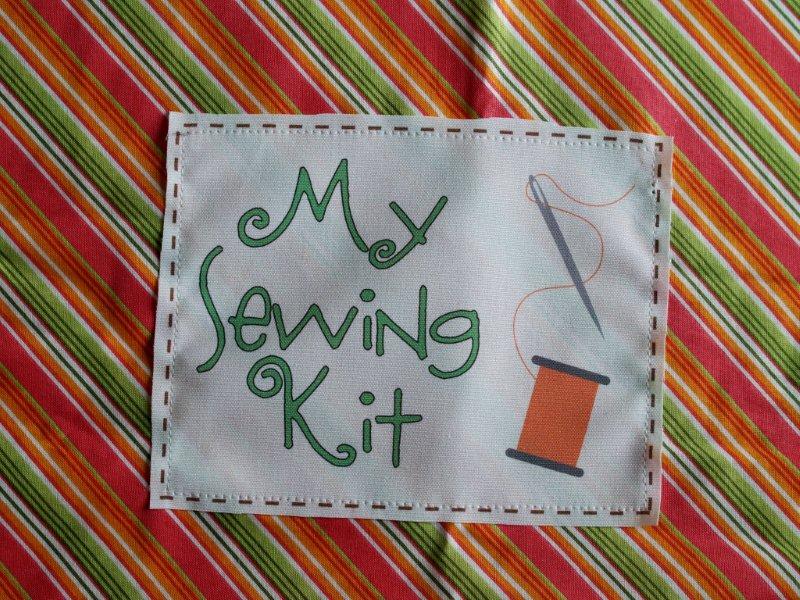 Hem the sides at each end for about 3″. Sew a casing into both top edges, wide enough for your ribbon. Sew a seam at the bottom and top of the casing.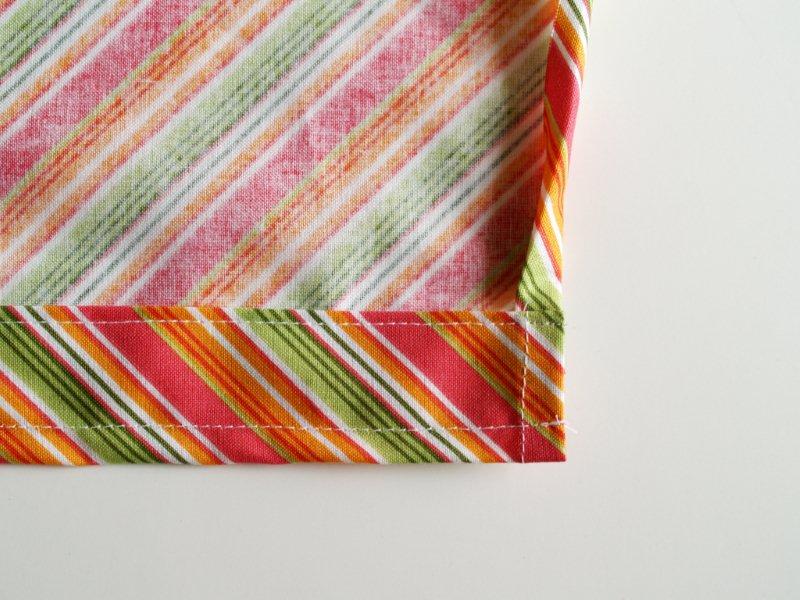 Fold the bag in half again, right sides together, and sew the two side seams. Sew the small part above the casing together as well.
Turn your bag right side out and feed a ribbon through each casing. Knot the ends of the ribbon.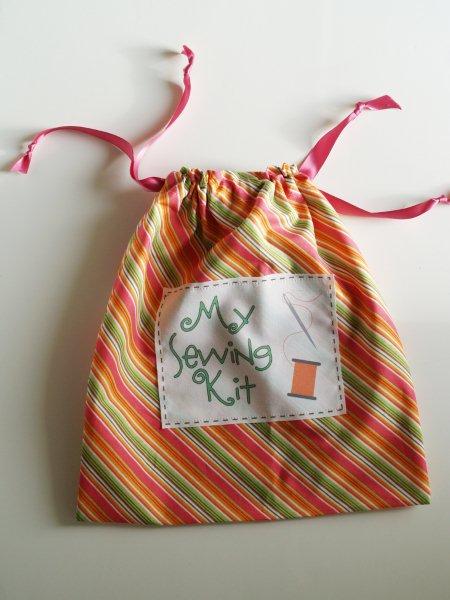 Gather all your supplies for the kit. I've showed you here how the Momma bird is sewn together. You'll need to coach your little ones together on how to sew along the edges, stuff the birdie, and sew the opening closed.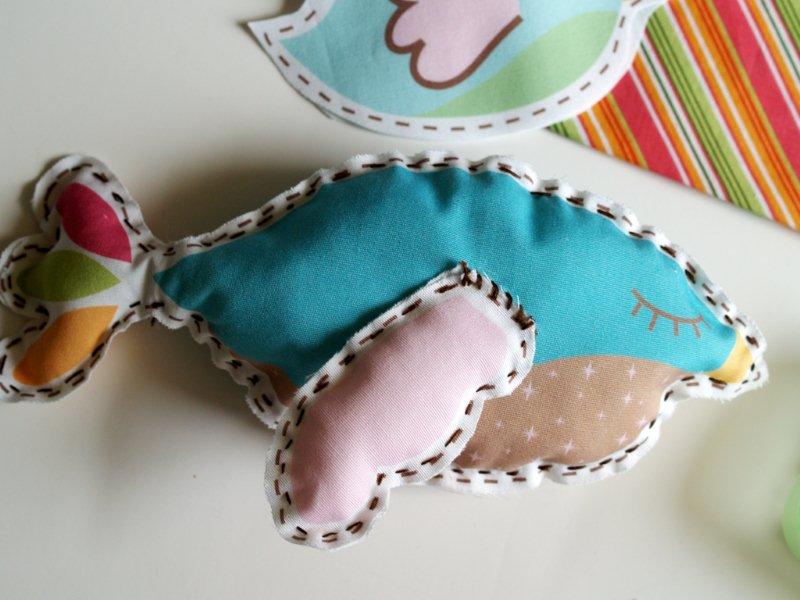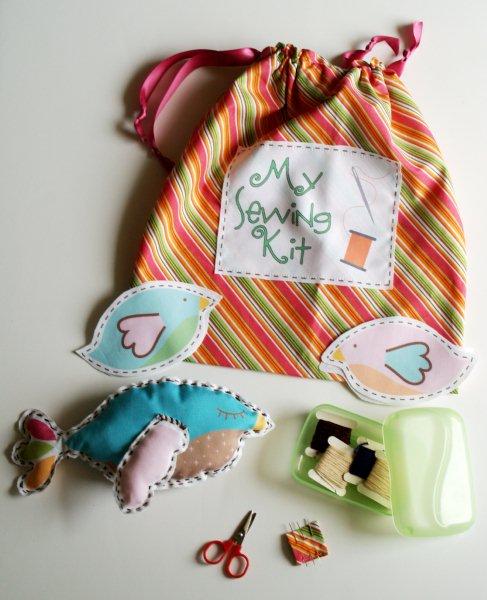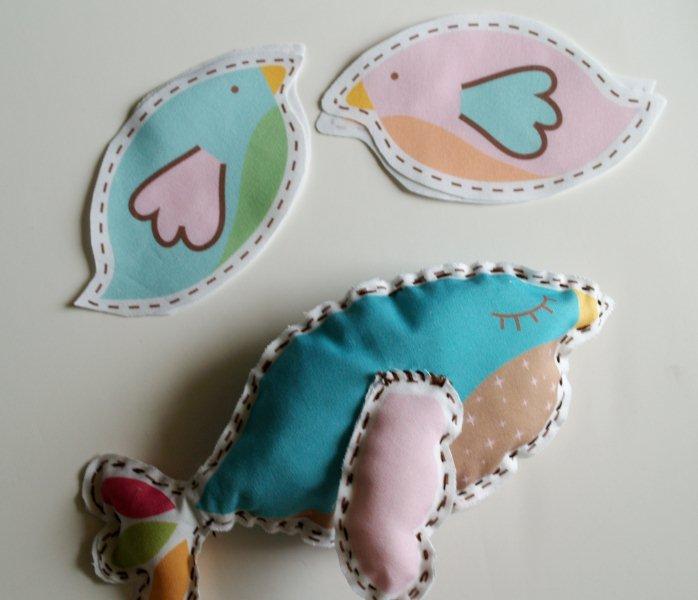 Get a small box to hold embroidery floss, needles and tiny scissors. This box is a soap box and the scissors came from a drugstore sewing kit. Both were only $1.
I also sewed a small rectangle of fabric for a needle holder.
Depending on the age of the child – you'll want to decide how sharp of a needle you want to give, and of course provide supervision.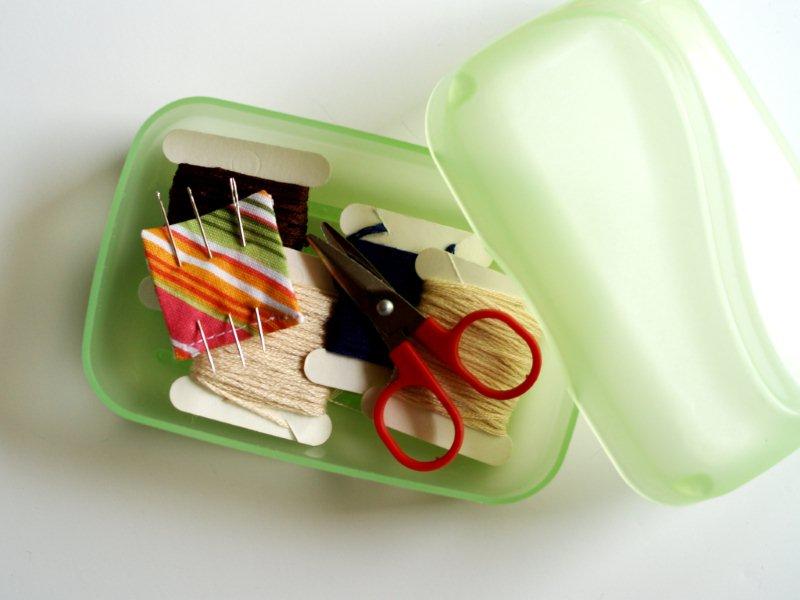 You can give them some stuffing in a Ziploc bag, for their birdies, and everything fits nicely in the bag! So cute – plus it is easy to take along and it keeps everything nice and tidy.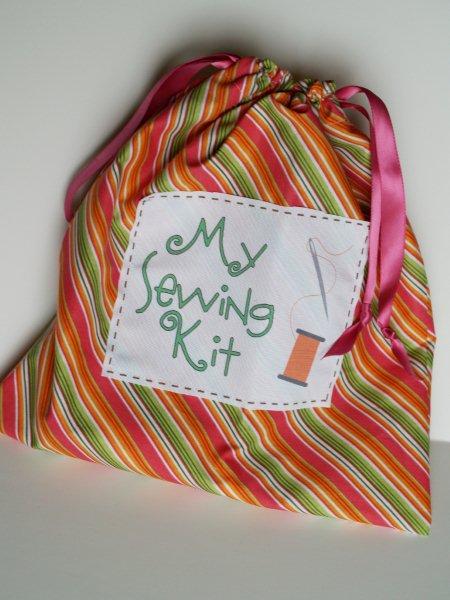 For these birdies, I remade the images based on the Land of Nod set, but you could find any simple clip art image and print it onto fabric for them to make into a stuffed toy.
You could also do the same thing with coloring page images, and add fabric markers to the set – so they can color the fabric and then sew it up!
I hope you enjoyed the tutorial – I'd love for you to stop by Flamingo Toes sometime!!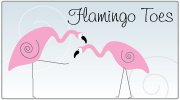 Michele thanks so much for including me in the fun!!
I have started truncating my posts to avoid having my content stolen. I hope you'll click over to finish reading the post. Thank you for understanding!